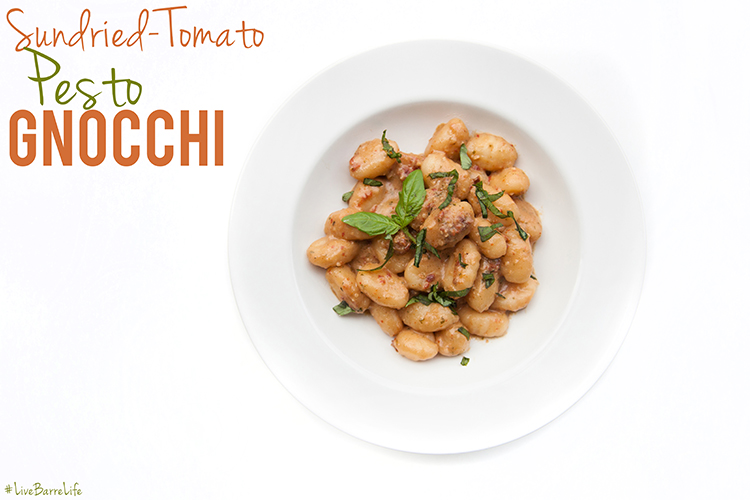 This is "Delicious Tuesday", where we bring you new, fresh, local, healthy recipes and food tips every week. Find out what's in season and what keeps you working during and after your workout!
Okay, I went to eat during meals, which I could do from things in the freezer that I used to make while I was stuck in my house.
I had one sun-dried tomato pesto and some leftover whole grain vegan homemade gnocchi.
It took less than 10 minutes to prepare my dinner (thanks Christine-of-the-past!). You can follow the instructions in the two linked recipes above, or if you start from scratch, I've sketched it below.
Make your meal even healthier:
Potatoes are great, but throw in other vegetables … maybe broccoli or mushrooms. Pesto is a great base for many vegetables that suck it.
Click to get a recipe …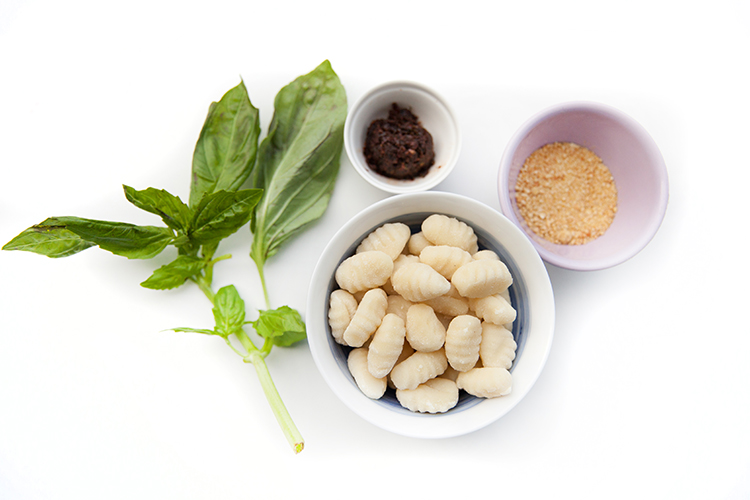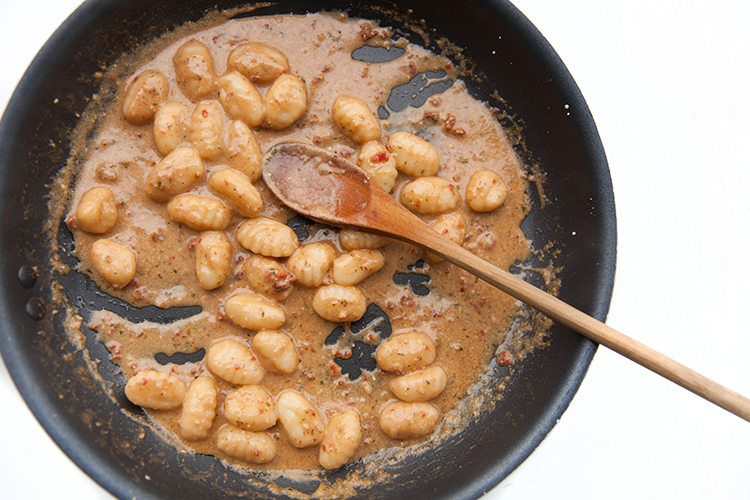 INGREDIENTS:
For PESTO – makes ~ 1 cup
– 1 cup of sun-dried tomatoes (not in jars, packed)
– 2 or 3 cloves of garlic
– 1/4 cup pine nuts
– 1 cup of basil leaves (packed)
– 1/3 cup vegan parmesan
– 1/3 cup EVOO
– Salt and pepper to taste
– OPTIONAL: red pepper flakes or other spicy ingredients, but it's a good base for things, so plain might be best

For Gnocchi – makes ~ 60 Gnocchi
– about 4 to 4 1/2 cups grated potatoes
– 1 teaspoon or a little more salt
– 2 tablespoons extra virgin olive oil (more in hand)
– 2.5 cups of universal flour (make sure you get quality flour)
Making a dish – 1 serving
– 1 to 1.5 cups of gnocchi
– 1-2 tablespoons of pesto (decide how much you like and if you add vegetables)
– 1/2 cup white wine
– vegan parm
– Basil for garnish
– All the vegetables you want
INSTRUCTIONS:
To make a pesto:
Pull all the ingredients out of the food processor and then mix. While the machine is running, slowly add the olive oil.
Taste and, if necessary, add more salt or pepper.
Store in a refrigerator or freezer for about a week (about a month).
To make Gnocchi:
Rub and then prick the potatoes several times with a fork and bake in either a foil-covered or uncovered oven at 425 degrees for at least 45 minutes, making sure they are made by punching with a knife or fork. This should be easy to do, otherwise they will need more time.
If the potatoes are cool enough to cool, rice them. If you use a richer color, there is no need to peel, because it stays behind (like magic), if you are massaging with a fork or masher, remove the peel.
You really want to make sure that there are no lumps between the potatoes and the flour, because you know them in the gnocks and they don't mix.
Put the grated potatoes in a large bowl and then add the flour, salt and olive oil.
Squeeze everything with your hands until it forms a ball. If it's too dry, you may need a little more olive oil, and if it's too sticky, give it a little more flour.
When forming dumplings, keep the dough covered with a clean towel or film wrap.
You will need about 1-2 teaspoons of dough, which is rolled into a ball in your hand and then rolled into oblong.
The pattern of many gnocchi can be achieved by rolling it down from the back of the fork – but it's really only for aesthetics.
I placed the gnocchi on a flat surface and kept it covered in the refrigerator. If you want to freeze some of the prepared pasta, place them in separate parts on a lined baking sheet for at least a couple of hours and then throw them in an airtight container or egg bag.
There! Batch of Gnocchi, DONE!
You want about a cup a cup and a half gnocchi per person / serving.
To bake it, place the stove in a pot of strongly salted water and bring to a boil, then whisk in batches of gnocchi. This is done after about a minute of floating to the top (the whole process takes about 5 minutes).
In the meantime, add a tablespoon of pesto to the pan and heat, then add 1/2 cup of white wine.
Spoon the gnocchi with a spoon and add to the pot to cover. Add some vegan parm to the pan if you need to thicken it a little more.
Serve in a pasta bowl and sprinkle with parma and fresh basil.
JOY!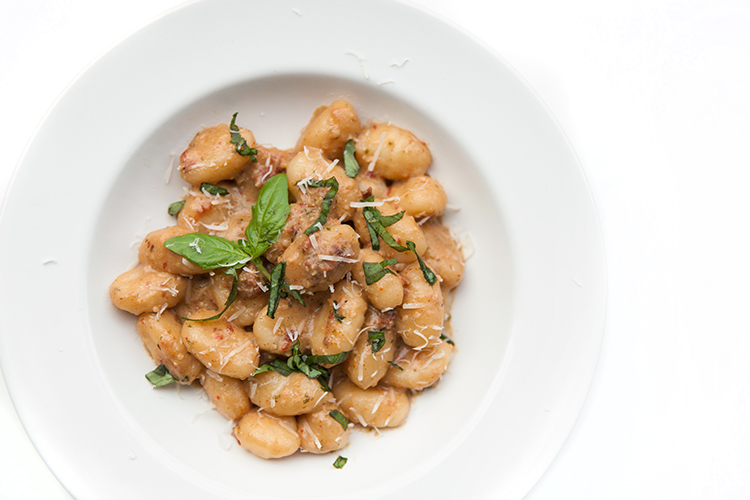 Let us know when you make this recipe by posting it on Instagram or twitter and using the #LiveBarreLife hashtag! And if there are any specific foods, fruits, vegetables or meats, you would like to see it on the blog!
—
photos and recipe: Christine McAvoy
—